By Angela Mount
Most people who enjoy red wine have heard of Barolo.  However, I would hazard a guess that far fewer know where the wine comes from. They may also have heard of Gavi, but again, with little idea of where it orginates.  Great Western Wine are great at hosting events which combine superb wines, fantastic food, yet imbued with the opportunity for guests to learn, and the recent evening at the Abbey hotel was no exception..
Ascheri is a family wine producer, now run by the ebullient Matteo, a larger than life personality, and the 6th generation of the family,  who delights in sharing his stories and his passion about his wines and his region.  Set up in 1880, the vineyards and winery in set in the small town of Bra, situated about 50 km south east of Turin.  Piemonte is the region, situated in north west Italy. Piemonte literally means ' at the foot of the mountains' as the area is nestled between the French alps, and the Apennines.  It's a land of great beauty, rugged on its northern slopes, softer and fertile further south.
It's also a land renowned for its food, home of the unique, exotic, perfumed white Alba truffle, and is a mecca for inveterate foodies in October, as they either join the hunt for these beauties, or enjoy the heady richness of the dishes created, showcasing this gem.  It's a land where game is prized, wild mushrooms grow rife, and where Autumn is revered for the delivery of all this richness of produce.
It also produces some of Italy's very best red wines, from Barolo to Barbaresco, maverick, brooding, temperamental.  Matteo, passionate about his heritage and home region compares Piemonte to Burgundy; the region works with wines made from one varietal only, although in Piemonte's case the grapes for which they are famous are grown solely on their home territory,and the region is peppered with small family producers.
Matteo is intense in his love of his home region "We need to produce wines that are different and recognisable; the wines need to express terroir and their provenance". It's also all about wine to go with food.
This comment, set the scene perfectly for the four course feast that was to follow. Ascheri's Gavi di Gavi2016, was the appropriate aperitif, with its fresh, pure character of pears and ripe lemons, subtle and creamy. Made from the Cortese grape, fresh and lively; this was followed by Langhe Arneis 2016, Arneis being another regional white variery,  and spot on with a little amuse-bouche of softly sweet aubergine, topped with a slice of tangy local taleggio cheese and enhanced by the sweetest and intense of confit tomatoes.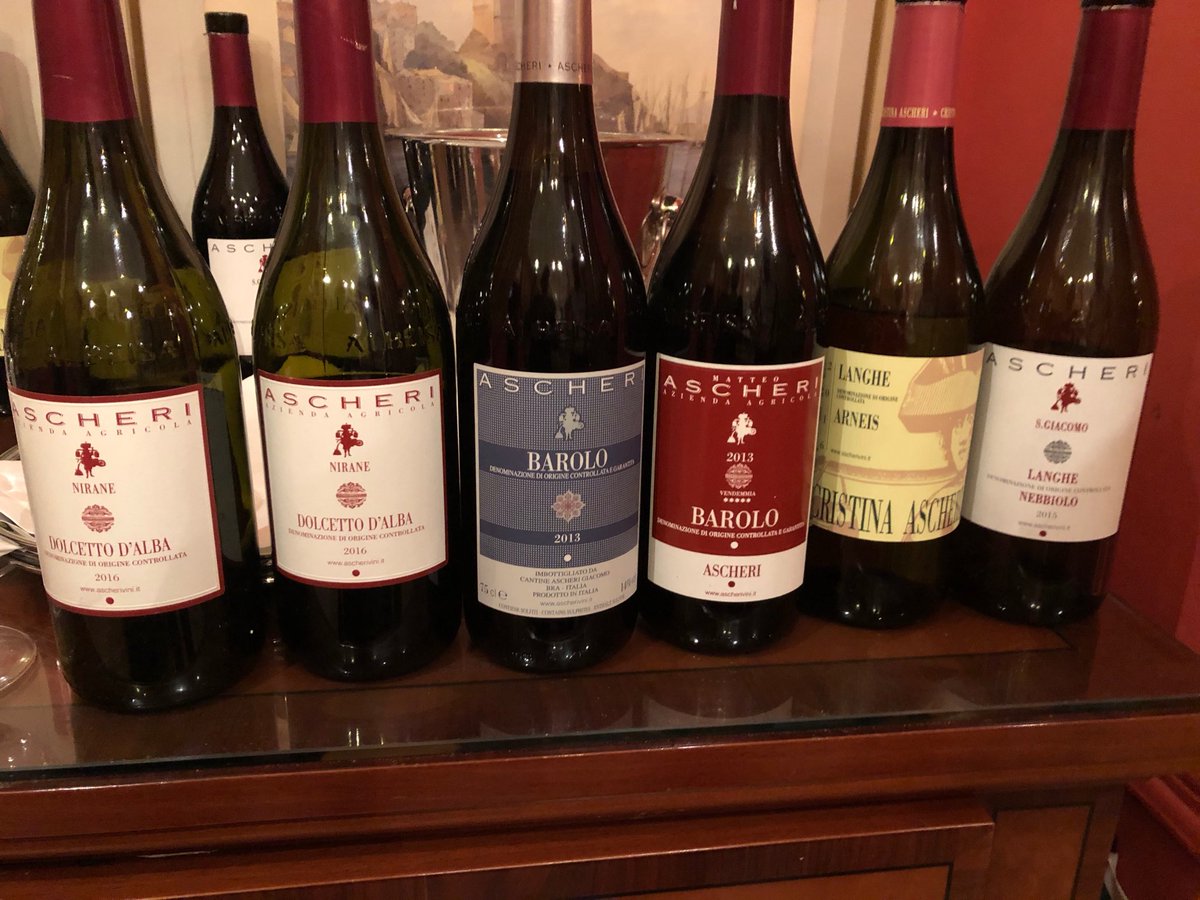 The Abbey's executive chef Rupert Taylor then served a delicate starter of chicken agnolotti, plump little pillows of saffron pasta filled with thyme and lemon-scented chicken mousseline, served with crayfish, and shavings of black truffle. Piemonte is justly famous for its red wines, with the majestic, violet and licorice-scented Nebbiolo, reigning supreme. However Piemonte nurtures a number of other varietals, with the far lighter, bright Dolcetto at the other end of the spectrum. Ascheri Dolcetto d'Alba 2016 was an inspired choice for the gentleness of the dish; meaning 'little sweet one' in Italian, Dolcetto is a pretty, red cherry- stashed red, which trips over the tongue with charm; Lively, and approachable, it's a delicious glass of fruit-driven wine, with zero oak, and simple, yet gently structured tannins to support. Perfect for red wine drinkers who prefers theirs light and fresh.  Next up ., a lighter interpretation of the grape, with its pale garnet colour. Aged for only one year, it has a smokey depth, yet a velvety lightness of touch, fruit-driven with a floral edge and hints of cinnamon , clove and black cherries to the fore. Rich and full, yet surprisingly light and fresh, it was another winner.
The big guns turned out in force for the main course, a luxurious and perfectly delivered roe deer Wellington, with Bolognese, cavolo nero and crones. This sumptuous slice of perfection looked spectacular, the roe deer cooked rare, gleaming with its rich, red colour, cutting as softly as butter, and meltingly tender. Encased in a duxelle of mushrooms and rich madeira, and encased in a perfectly cooked pastry crust, topped with sesame seeds, it was a dish for kings.  Served with a juniper-infused Bolognese sauce, crunchy cavolo nero and tangy, nutty little crones ( similar to a tiny version of Jerusalem artichoke), it was impressive.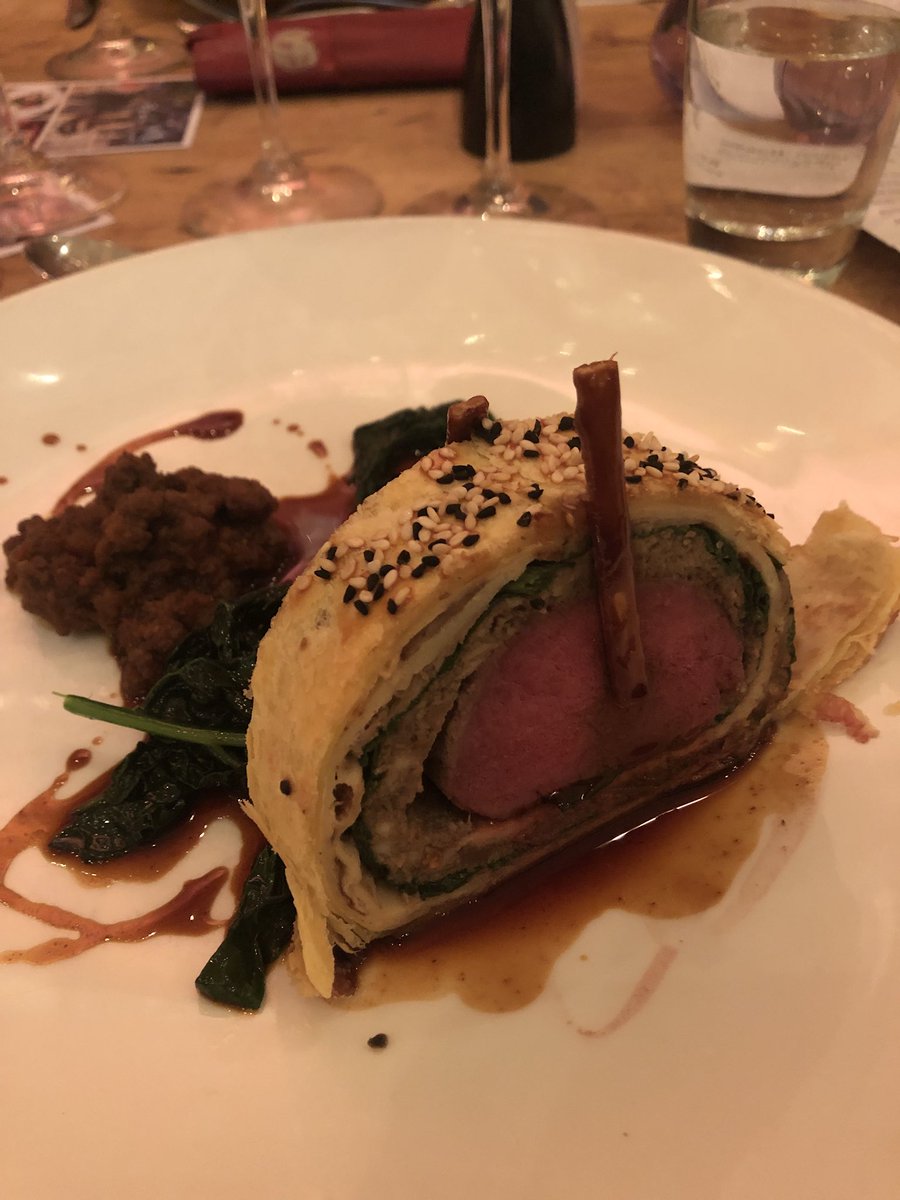 As were the wines, in no uncertain terms.  To match this majestic dish, the king of Piemonte wines, Barolo was rolled out, in two forms.  Firstly Ascheri Barolo 2013, soft, silky and elegant, redolent of violets, truffles, smoke and prunes. Deep, yet silky and elegant, it offered elegance and a softness of style, with an inherent sweetness of character, which picked up the natural sweetness of the roe deer. Ascheri Barolo Cru 2013, is produced from a single vineyard, and only in the very best of vintages. Still a baby, with many years to mature, it nevertheless showed its promise, with the intensity of its charisma and complexity. Darkly rich, full of concentrated power it showed a glimpse of its potential, still chewy, but with a beautiful intensity, and the promise of things to come.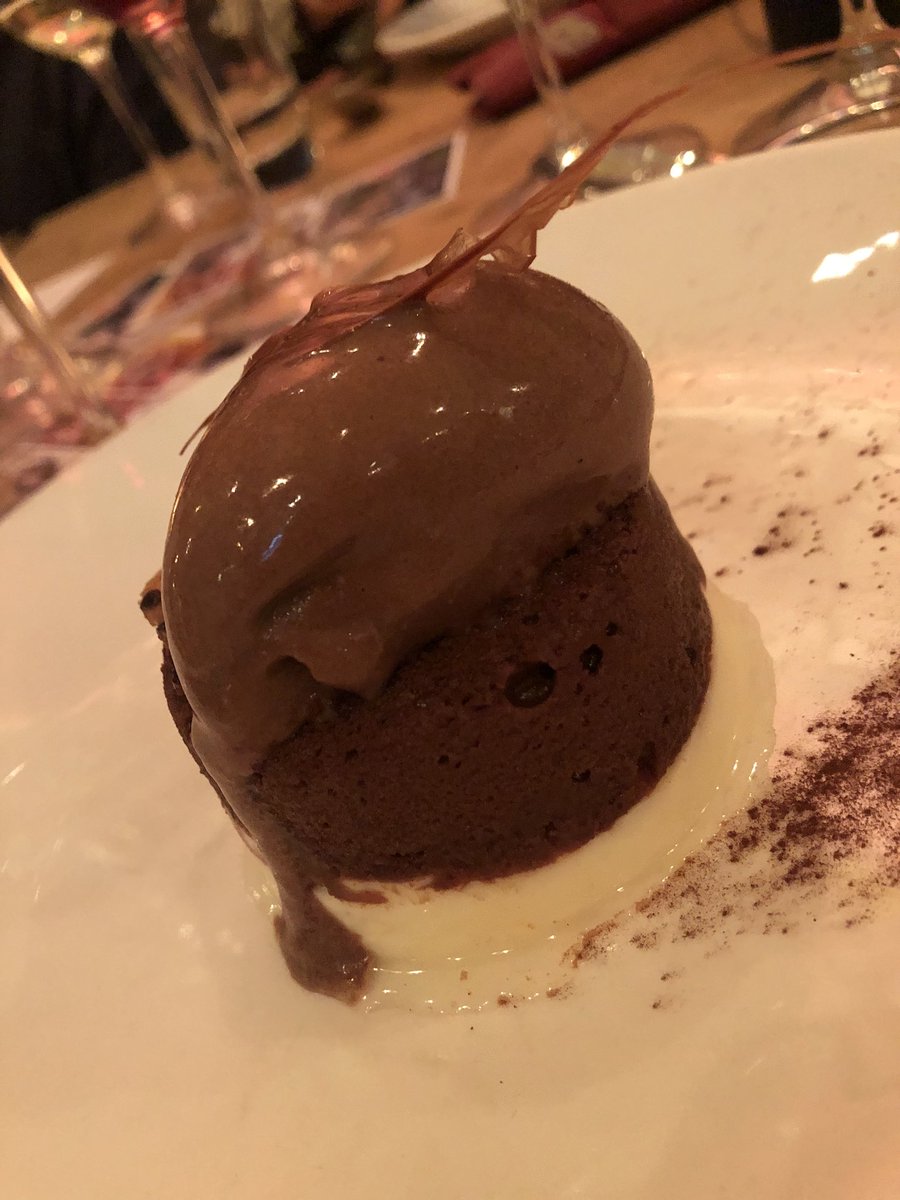 Rupert Taylor is building somewhat of a reputation for the innovative style and quality of his desserts. For this occasion he put together a tangy mascarpone mousse, with a tart edge, to balance the sweet intensity of a baked chocolate mousse, sitting atop, with a crisp layer of baked honey with cocoa nibs to separate, a scoop of dark chocolate sorbet, and a caramelised honey shard. What wine to serve? Sometimes richness goes with richness of dish, at other times, contrast is the better option, which it proved here.  Matteo served a gently sweet, fragrant and refreshing Moscato d'Asti 2017, a frothy, delightful glass of gently sparkling loveliness, smelling of freshly crushed table grapes and lemon peel, deliciously fragrant, light, a perfect foil to the intensity of the dish.
If you enjoy good Barolo, take time to delve into the richness of Piemonte a little more. It's well worth the journey of discovery.